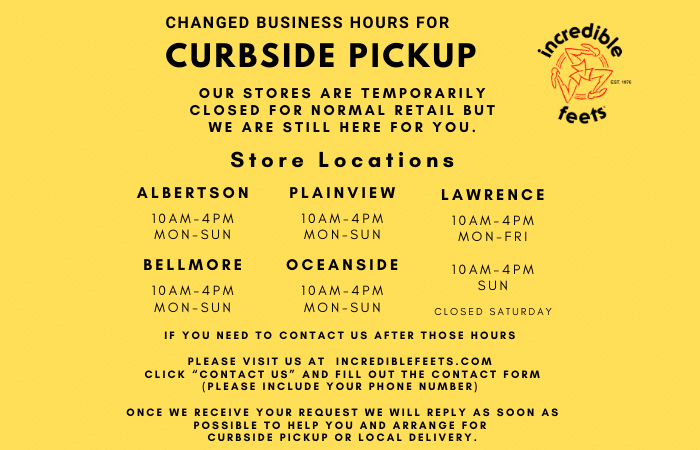 Changed Business Hours for Curbside Pickup Starting June 1st
We thank you, our loyal customers for your support during these difficult times.
Curbside Pickup &
Local Delivery Available
Our stores are temporarily closed for normal retail but we are still here for you.
Curbside Locations & Hours
Albertson
10am-4pm
Mon-Sun
Bellmore
10am-4pm
Mon-Sun
Plainview
10am-4pm
Mon-Sun
Oceanside
10am-4pm
Mon-Sun
Lawrence
10am-4pm
Mon-Fri
10am-4pm
Sunday
Closed Saturday
—-
If you need to contact us after those hours please visit us at incrediblefeets.com
Click "Contact Us" and fill out the Contact Form (Please include your phone number)
Once we receive your request we will reply as soon as possible to help you and arrange for curbside pickup or local delivery.
Please stay safe and healthy!
Your Neighborhood Footwear Specialist,
Incredible Feets